Some time Windows administrators evict Windows Cluster node and rejoin's. Recently came a cross an issue where the cluster node was throwing administrative permission error.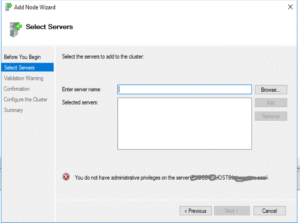 This could be the issue if the Operating System has been build with hardening. This can be fixed by editing the administrative permission for below registry.
Add the following key to the registry:
HKEY_LOCAL_MACHINE \SYSTEM\CurrentControlSet\Control\SecurePipeServers
Value Name: winreg
Select winreg, right click to open the Security menu, and then click Permissions.
Administrators permission Full Control
Backup operators group Full Control
Local service account to Full Control, make sure no other users or groups are listed, and then click OK.